Tom is a young trader in a London bank, whose recent performance has put his job on the line. When the first plane hits the World Trade Center on the morning of September 11th 2001, Tom jumps into the biggest trade of his life. Inspired by a true story.
With Abraham Lewis (How to talk to girls at parties), Packy Lee (Peaky Blinders), Vincent Regan (300), and Bally Gill.
Inspired by the best-selling novel Swimming with Sharks by Joris Luyendijk.
With the support of France Televisions, the CNC, and the Region Nouvelle-Aquitaine.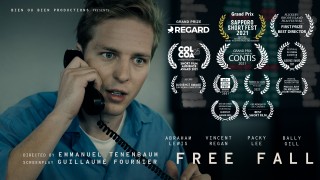 81 Awards
Festival Regard 2021 GRAND PRIZE - OSCAR QUALIFYING FOR 2022 (Canada)
Sapporo International Short Film Festival & Market GRAND PRIX (Japan)
Flicker's Rhode Island International Film Festival 2021 FIRST PRIZE BEST DIRECTOR (USA)
Alcine 2021 AUDIENCE AWARD EUROPEAN COMPETITION (Spain)
Festival Internation de Contis 2021 GRAND PRIX (France)
COLCOA French Film Festival 2021 AUDIENCE AWARD (USA)
Nòt Film Festival 2021 BEST DIRECTOR (Italy)
European Film Festival of Lille 2021 AUDIENCE AWARD (France)
Fenêtres sur Court 2021 AUDIENCE AWARD EUROPEAN COMPETITION (France)
Les Rimbaud du Cinéma 2021 BEST SHORT FILM (France)
War on Screen 2021 AUDIENCE AWARD (France)
Festival Images en Vues 2021 BEST SHORTFILM (France)
Festival Du Grain à Démoudre 2021 GRAND PRIX BEST SHORTFILM (France)
Festival RAMDAM Tournai 2022 BEST INTERNATIONAL SHORT FILM (Belgium)
Medina del Campo Film Festival 2022 YOUTH AWARD (Spain)
European Short Film Festival of Bordeaux 2022 TALENT AQUITAIN (France)
Regensburger Kurzfilmwoche 2022 AUDIENCE AWARD (Germany)
Nefiltravanae Kino 2022 AUDIENCE AWARD / SPECIAL JURY MENTION (Belarus)
Festival La Fila de Cortometrajes 2022 BEST SCREENPLAY (Spain)
Corti da Sogni "Antonio Ricci" International Short Film Festival 2022 EUROPEAN SOGNI (Italy)
Shortcutz Amsterdam 2022 BEST FILM / BEST DIRECTOR / BEST SCREENPLAY / BEST EDITING / INTERNATIONAL AUDIENCE AWARD (The Netherlands)
Caostica International Festival 2022 WINNER VIDEOZINEMA (Spain)
Lighthouse International Film Festival 2022 SOCIAL IMPACT JURY AWARD (USA)
Festival Internacional de Cortos Radio City Valencia 2022 SPECIAL MENTION FOR BEST ORIGINAL MUSIC (Spain)
Alicante Film Festival 2022 BEST MEDITERRANEAN SHORT FILM (Spain)
Festival du court métrage de Maisons Laffitte et Marly le Roi 2022 AUDIENCE AWARD (France)
Transilvania Shorts 2022 SPECIAL JURY MENTION (Rumania)
Universocorto Film Festival 2022 BEST DIRECTOR (Italy)
International Independant Film Festival of Elche 2022 CITY OF ELCHE AWARD FOR FICTION (Spain)
Postira Seaside Film Festival 2022 GOLDEN SARDINE BEST FILM / AUDIENCE AWARD (Croatia)
Sicilymovie Festival del cinema di Agrigento 2022 BEST SHORTFILM (Italy)
Saturnia Film Festival 2022 SPECIAL MENTION (Italy)
Certamen El Pecado 2022 BEST SHORT FILM (Spain)
Gargano Film Fest 2022 BEST INTERNATIONAL SHORT FILM / AUDIENCE AWARD (Italy)
Mediterraneo Festival Corto 2022 BEST SHORT FILM (Italy)
Bucharest Short Film Festival 2022 BEST DIRECTOR (Rumania)
Festival International de Vébron 2022 BEST FICTION (France)
Ferfilm Festival 2022 SPECIAL JURY MENTION (Kosovo)
Hexagon Film Festival 2022 BEST SHORT FILM (Italy)
Inventa un Film Lenola Film Festival 2022 BEST INTERNATIONAL SHORT FILM / BEST SCREENPLAY /BEST LEADING ACTOR (Italy)
Visioni Corte International Short Film Festival 2022 SNCCI AWARD (Sindacato Nazionale Critici Cinematografici Italiano) (Italy)
Toko Film Fest 2022 SPECIAL JURY MENTION (Italy)
24fps International Short Film Festival 2022 AUDIENCE AWARD / BEST EDITING (USA)
Ecran Libre Festival International du Court Métrage 2022 BEST FILM (France)
International Short Film Festival Ciudad de Soria BEST INTERNATIONAL SHORT FILM JUNIOR JURY (Spain)
Magma International Short Film Festival 2022 AUDIENCE AWARD (Italy)
Ilcorto.it Festa Internazionale di Roma 2022 BEST FOREIGN FILM (Italy)
Cinema di Frontiera.ConCorto 2022 BEST SHORT FILM (Italy)
Short Film Breaks 2022 SILVER ELEPHANT (Rumania)
Job Film Days 2022 HONORABLE MENTION (Italy)
Manhattan Shorts 2022 SILVER MEDAL (USA)
Dublin International Short Film and Music Festival 2022 BEST DIRECTOR (Ireland)
Thessaloniki International Short Film Festival 2022 CINEMATIC ACHIEVEMENT AWARD (Greece)
Filmzeit Festival 2022 JURY AWARD / AUDIENCE AWARD (Germany)
Capri Movie International Film Festival 2022 BEST INTERNATIONAL FILM (Italy)
Lucania Film Festival 2022 SPECIAL JURY MENTION (Italy)
IKUSKA Muestra de cortometraje de Pasaia 2022 BEST SHORT FILM / AUDIENCE AWARD (Spain)
Punto Di Vista Festival 2022 BEST SHORT FILM / AUDIENCE AWARD (Italy)
Cortogenia 2022 BEST INTERNATIONAL FILM (Spain)
Festival des 24 courts 2023 PRIX DU COLLEGE COSTA GAVRAS (France)
Appuntamento in Nero 2023 FIRST PRIZE (Italy)
NaNo Film Festival 2023 BEST DRAMA (Italy)
Corto e Cultura Film Festival 2023 BEST FILM / SPECIAL JURY MENTION BEST SUPPORTING ACTOR (Italy)
San Benedetto Film Festival 2023 BEST FOREIGN FILM (Italy)
I-Fest Film Festival 2023 BEST SHORTFILM / SPECIAL JURY MENTION (Italy)
12 Nominations
Prix Unifrance du Court-Métrage 2021 (France)
Hofer Filmtage 2022 TOP 3 AUDIENCE CHOICE 2021 (Germany)
Shortcutz Amsterdam 2022 BEST ACTOR (Netherlands)
Beeston Film Festival 2022 A BETTER PLACE (UK)
Nefiltravanae Kino 2022 BEST FICTION FILM (Belarus)
European Shortfilm festival of Villamayor de Cine 2022 BEST EDITING - BEST CINEMATOGRAPHY - BEST SCREENPLAY - BEST SOUND - BEST DIRECTOR - BEST FOREIGN LANGUAGE SHORT - BEST SHORTFILM (Spain)
153 Selections
Festival REGARD 2021 (Canada)
Flicker's Rhode Island International Film Festival 2021 (USA)
Show me Shorts International Film Festival 2021 (New Zealand)
Hollyshorts 2021 (USA)
Alcine 2021 (Spain)
San Jose International Film Festival 2021 (USA)
Hof International Film Festival 2021 (Germany)
COLCOA 2021 (USA)
Sapporo International Film Festival & Market 2021 (Japan)
European Film Festival of Lille 2021 (France)
Bengaluru International Film Festival 2021 (India)
Prix Unifrance du Court-Métrage 2021 (France)
Festival Regard 2021 (Canada)
Motovun Film Festival 2021 (Croatia)
War on Screen 2021 (France)
Not Film Festival 2021 (Italy)
Festival International de Contis 2021 (France)
Festival International du film de Nancy 2021 (France)
Off Courts Trouville 2021 (France)
Kaohsiung Film Festival 2021 (Taiwan)
Montreal Courts d'un Soir 2021 (Canada)
Fenêtres sur Court Dijon 2021 (France)
Santa Fe Independant Film Festival 2021 (USA)
Festival du film court en Armagnac 2021 (France)
Festival du Grain à démoudre 2021 (France)
Lake County Film Festival 2021 (USA)
Les Rimbaud du Cinéma 2021 (France)
Festival du Cinéma International en Abitibi-Témiscamingue 2021 (Canada)
Festival du film français en République Tchèque 2021 (Czech Republic)
Shortcutz Amsterdam 2021 (The Netherlands)
Longue vue sur le Court 2021 (Canada)
Festival International du court-métrage de Troyes 2021 (France)
Festival Images en Vue 2021 (Canada)
Festival Un mes corto 2021 (Uruguay)
Paris Courts Devant 2022 (France)
Las Cruces International Film Festival 2022 (USA)
Flickerfest 2022 (Australia)
Tournai Ramdam Festival 2022 (Belgium)
Mammoth Film Festival 2022 (USA)
Short Film Breaks 2022 (Romania)
Yountville International Short Film Festival 2022 (USA)
Internationale Kurzfilmwoche Regensburg 2022 (Germany)
C'est pas la taille qui compte 2022 (France)
Festival Courts-Bouillon 2022 (France)
Nefiltravanae Kino 2022 (Belarus)
Medina del Campo 2022 (Spain)
Beeston Film Festival 2022 (UK)
Festival Européen du court-métrage de Bordeaux 2022 (France)
Festival Traversées 2022 (France)
Festival Le Courtivore Rouen 2022 (France)
Festival La Fila de Cortometrajes Valladolid 2022 (Spain)
Manhattan Shorts 2022 (USA)
Mulhouse Tous Courts 2022 (France)
Corti da Sogni International Short Film Festival 2022 (Italy)
Lo Spiraglio Film Festival 2022 (Italy)
New Jersey International Film Festival 2022 (USA)
Cortogenia 2022 (Spain)
Alicante Film Festival 2022 (Spain)
Prato Film Festival 2022 (Italy)
Festival Internacional de Cortos Radio City Valencia 2022 (Spain)
Festival Faites de l'image Toulouse 2022 (France)
Lighthouse International Film Festival 2022 (USA)
Bucharest Short Film Festival 2022 (Rumania)
Fear No Film Festival 2022 (USA)
Caostica International Short Film and Music Video Festival 2022 (Spain)
Festival Détours en cinécourt 2022 (France)
Transilvania Shorts 2022 (Rumania)
Stony Brooke Film Festival 2022 (USA)
One Shot International Film Festival 2022 (Armenia)
Civitanova Film Festival 2022 (Italy)
Caostica International Festival 2022 (Spain)
Lavazza IncluCity Festival 2022 (Canada)
Figari International Short Film Festival 2022 (Italy)
Pune Short Film Festival 2022 (India)
Alpinale 2022 (Austria)
Ischia Global Film Festival 2022 (Italy)
Saturnia Film Festival 2022 (Italy)
Postira Seaside Film Festival 2022 (Croatia)
Pop Corn Film Festival 2022 (Italy)
Terre Da Film Festival 2022 (Italy)
CineFest Miskolc International Film Festival 2022 (Hungary)
Ischia Film Festival 2022 (Italy)
Salute Your Shorts Film Fest 2022 (USA)
Festival du court métrage de Maisons Laffitte et Marly le Roi 2022 (France)
Aporia Film Festival 2022 (South Korea)
Fort Lauderdale International Film Festival 2022 (USA)
Periferia dell'impero Film Festival 2022 (Italy)
Cinelido Festival del cinema italiano 2022 (Italy)
Universo Corto 2022 (Italy)
Toko Film Fest 2022 (Italy)
Lucania Film Festival 2022 (Italy)
Festival Internacional de Cine Independiente de Elche 2022 (Spain)
24fps International Short Film Festival 2022 (USA)
Filmzeit Festival 2022 (Germany)
Sicilymovie Festival del Cinema di Agrigento 2022 (Italy)
Festival International de Vébron 2022 (France)
FIC Monterrey 2022 (Mexico)
Ecran Libre Festival International du Court Métrage 2022 (France)
Film by the Sea 2022 (Netherlands)
Festival Europeo de Cortometrajes de Villamayor de Cine 2022 (Spain)
Inventa un Film Lenola Film Festival 2022 (Italy)
Shortynale Film Festival Klosterneuburg 2022 (Austria)
Sedicicorto Forlì International Film Festival 2022 (Italy)
Visioni Corte Film Festival 2022 (Italy)
Thessaloniki International Short Film Festival 2022 (Greece)
Cinefest Sudbury 2022 (Canada)
Gargano Film Festical 2022 (Italy)
Premio Job for the Future JFD - Camera di Commercio di Torino 2022 (Italy)
Hexagon Film Festival 2022 (Italy)
Black Bear Film Festival 2022 (USA)
New Filmmakers NY 2022 (USA)
Certamen El Pecado 2022 (SPAIN)
Mediterraneo Festival Corto 2022 (Italy)
Gargano Film Fest 2022 (Italy)
Visioni Corte International Short Film Festival 2022 (Italy)
Ferfilm Festival 2022 (Kosovo)
Malatesta Short Film Festival 2022 (Italy)
Dublin International Short Film and Music Festival 2022 (Ireland)
Orlando Film Festival 2022 (USA)
Pittsburgh Shorts & Script Competition 2022 (USA)
Fish and Films 2022 (France)
Thessaloniki International Short Film Festival 2022 (Greece)
Roma Creative Contest 2022 (Italy)
Festival de Cinéma d'Orry-La-Ville 2022 (France)
Cinema di Frontiera.ConCorto 2022 (Italy)
International Short Film Festival Ciudad de Soria 2022 (Spain)
Federazione Italiana Cinema d'Essai Cortometraggi che passione 2022 (Italy)
Magma International Short Film Festival 2022 (Italy)
Ilcorto.it Festa Internazionale di Roma 2022 (Italy)
Job Film Days 2022 (France)
Sulmona International Film Festival 2022 (Italy)
La Balade des Courts 2022 (France)
Canberra Short Film Festival 2022 (Australia)
Capri Movie International Film Festival 2022 (Italy)
IKUSKA Muestra de cortometraje de Pasaia 2022 (Spain)
Florence Short Film Festival 2022 (Italy)
Shorts are Not Pants 2022 (Canada)
Filmfest Düsseldorf 2022 (Germany)
Cornwall Film Festival 2022 (UK)
London Super Shorts Film Festival 2022 (UK)
Urban Visions Beyond the Ideal City 2022 (Italy)
Accordi @ Disaccordi International Short Film 2022 (Italy)
Punto Di Vista Festival 2022 (Italy)
Festival des 24 courts 2023 (France)
Joinville International Short Film Festival 2023 (Brazil)
Internationale Kurzfilmwoche Regensburg 2023 (Germany)
Allentown Film Festival 2023 (USA)
Appuntamento in Nero Film Festival 2023 (Italy)
NaNo Film Festival 2023 (Italy)
San Benedetto Film Festival 2023 (Italy)
FiatiCorti Film Festival 2023 (Italy)
I-fest International Film Festival 2023 (Italy)
TV Sale
France Televisions
Movistar (Spain)
Shot TV (Russia)
Aftenposten (Norway)
Samansa (Japan)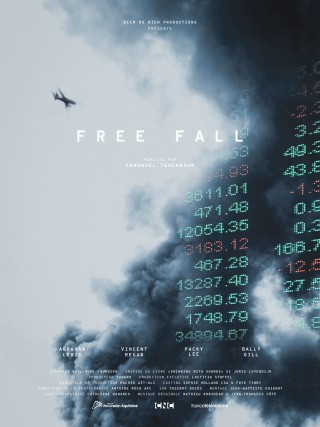 Production Company
Bien ou Bien Productions (France)
Distributors
Premium Films (International Sales)
Eroin (Festival Strategy Worldwide)
Zen Distribution (Festival Strategy Italy)
Crew
Direction
Screenplay
Story
Guillaume Fournier
Emmanuel Tenenbaum
Based on the book "Swimming with Sharks: My Journey Into the World of the Bankers" by Joris Luyendijk
Producer
Executive Producer
Cast
Abraham Lewis
Vincent Regan
Packy Lee
Bally Gill
Sebastian Armesto
David Shaw Parker
Joe Layton
Gabriel Lo Giudice
Pete Marier
Leon Louder
Aaron Skovell
Jason McNallt
Andrew Omalley
Yan Moussu
Robin Pailler
Amre Sawah
Cinematographer
Casting
Sophie Holland CSA
Faye Timby
Editing
Jean-Bapiste Guignot
Head set design
Catherine Mañanes
Sound
Thierry Ducos
Original Soundtrack
Mathieu Robineau
Jean-François Côté
Producer
Line Producer
Production Secretary
Script Supervision
1st AD
2nd AD
Intern AD
Casting Extras
1st Camera Assistant
2nd Camera Assistant
1st sound Assistant
Technical Supervisor Executive Production
Accountant
Production Secretary
Location Manager
2nd Location Manager
Assistant 2nd Location Manager
Interns Location Management
Quentin Dumez
Luc Rodrigues
1st assistant set decorator
Location Manager Designer
IT specialist and Screen animations
Interns Set Design
Mathilde Perrins
François Fondeville
Costume Designer
Wardrobe
Séverine Cales
Emelyne Barrère
Head make-up artist
Make-up artist
Gaffer
Electrician
Extra electrician
Key Grip
Grip
English Translation
Set photographer
Charles-Edouard Woisselin
VFX
Sound editing and mix
Footage management
Lily Post Prod
Emmanuel Fortin
Hüssam Korkut
Editing facilities
TV News
Jean-Baptiste Guignot
Guy DAGAN
Ilia POKRISHCHENKO
Paul NYAMEKYE
With the support of
Centre National du Cinéma et de l'Image animée
France Télévisions
Région Nouvelle-Aquitaine
Arnaud Dreistadt
Ruben Tenenbaum
Studio Off-Courts