Tom is a young trader in a London bank, whose recent performance has put his job on the line. When the first plane hits the World Trade Centre on the morning of September 11th 2001, Tom, convinced that it's a terrorist attack and not an accident, jumps into the biggest trade of his life...
With Abraham Lewis (How to talk to girls at parties), Packy Lee (Peaky Blinders), Vincent Regan (300), and Bally Gill.
Based on a true story, adapted from the best-selling novel Swimming with Sharks by Joris Luyendijk.
With the support of France Televisions, the CNC, and the Region Nouvelle-Aquitaine.
4 Awards
Festival Regard 2021 GRAND PRIZE (Canada)
European Film Festival of Lille 2021 WINNER AUDIENCE AWARD (France)
Flicker's Rhode Island International Film Festival 2021 FIRST PRIZE BEST DIRECTOR (USA)
Nòt Film Festival 2021 BEST DIRECTOR (Italy)
1 Nomination
Prix Unifrance du Court-Métrage 2021 (France)
18 Selections
European Film Festival of Lille 2021 (France)
Prix Unifrance du Court-Métrage 2021 (France)
Festival Regard 2021 (Canada)
Motovun Film Festival 2021 (Croatia)
War on Screen 2021 (France)
Not Film Festival 2021 (Italy)
Flicker's Rhode Island International Film Festival 2021 (USA)
Festival International de Contis 2021 (France)
Festival International du film de Nancy 2021 (France)
Off Courts Trouville 2021 (France)
Sapporo International Film Festival 2021 (Japan)
Kaohsiung Film Festival 2021 (Taiwan)
Belfast Film Festival 2021 (UK)
Montreal Courts d'un Soir 2021 (Canada)
Bengaluru International Film Festival 2021 (India)
Fenêtres sur Court Dijon 2021 (France)
Show me Shorts International Film Festival 2021 (New Zealand)
Hollyshorts 2021 (USA)
Santa Fe Independant Film Festival 2021 (USA)
TV Sale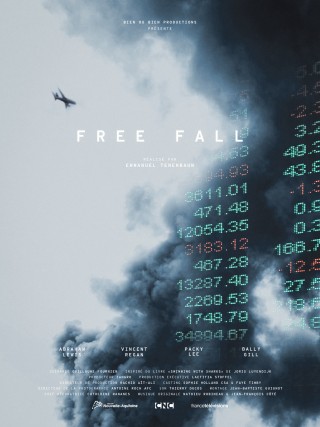 Production Company
Bien ou Bien Productions (France)
Distributors
Premium Films (International Sales)
Eroin (Festival Strategy)
Crew
Direction
Screenplay
Executive Producer
Cast
Abraham Lewis
Vincent Regan
Packy Lee
Bally Gill
Sebastian Armesto
David Shaw Parker
Joe Layton
Gabriel Lo Giudice
Pete Marier
Leon Louder
Aaron Skovell
Jason McNallt
Andrew Omalley
Yan Moussu
Robin Pailler
Amre Sawah
Cinematographer
Casting
Sophie Holland CSA
Faye Timby
Story
Guillaume Fournier
Emmanuel Tenenbaum
Based on the book "Swimming with Sharks: My Journey Into the World of the Bankers" by Joris Luyendijk
Editing
Jean-Bapiste Guignot
Head set design
Catherine Mañanes
Sound
Thierry Ducos
Original Soundtrack
Mathieu Robineau
Jean-François Côté
Traderrs
Aaron Skovell
Jason McNallt
Andrew Omalley
Yan Moussu
Robin Pailler
Amre Sawah
Voices
Sebastian Armesto
Roger Conneff
Julian Frot
Daniel Damm-Rossi
Producer
Line Producer
Production Secretary
Script Supervision
1st AD
2nd AD
Intern AD
Casting Extras
1st Camera Assistant
2nd Camera Assistant
1st sound Assistant
Technical Supervisor Executive Production
Accountant
Production Secretary
Location Manager
2nd Location Manager
Assistant 2nd Location Manager
Interns Location Management
Quentin Dumez
Luc Rodrigues
1st assistant set decorator
Location Manager Designer
IT specialist and Screen animations
Interns Set Design
Mathilde Perrins
François Fondeville
Costume Designer
Wardrobe
Séverine Cales
Emelyne Barrère
Head make-up artist
Make-up artist
Gaffer
Electrician
Extra electrician
Key Grip
Grip
English Translation
Set photographer
Charles-Edouard Woisselin
VFX
Sound editing and mix
Footage management
Lily Post Prod
Emmanuel Fortin
Hüssam Korkut
Editing facilities
TV News
Jean-Baptiste Guignot
Guy DAGAN
Ilia POKRISHCHENKO
Paul NYAMEKYE
With the support of
Centre National du Cinéma et de l'Image animée
France Télévisions
Région Nouvelle-Aquitaine
Arnaud Dreistadt
Ruben Tenenbaum
Studio Off-Courts